Hotter speed and turning than competition kites.  Higher-quality exercise and livelier pull than power kites.
WindDances are "airgear," a new concept.  They fly better and feel more exciting than typical stunt kites.
Our other advancements:  Ergo T-handles that boost feel, control, exercise.  Natural active FLY-a-kite skill.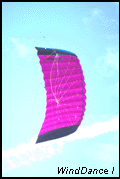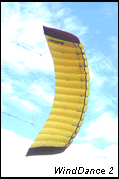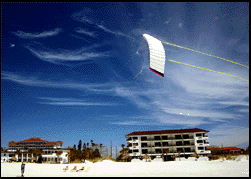 About skill ,   sport kites ,   designing sport kites ,   FLYING handles ,   the WindDancing Workout ,   TIPS
Videos   Photos, faster pics   Illustrations   Generic flight envelope   WindDance flight envelope   Hot turning   It's so EASY
How to get hooked   Basic skill vs. advanced skill   The essence of WindDancing   Field reports   Features, more
WindDances vs. others     WHY WindDances perform so well     Performance curves     TECH flier, web version
PDF downloads:  WindDance2000 flier   Mini flier   PHOTO flier  TECH flier  User's manual v.2002a, loose-leaf or booklet
What is dual-line kite flying?

What is kite FLYING?

Want fun
and
good exercise?

If so, you want
every one of these
basic FLYING qualities.

In the marketplace
there are hundreds
of dual-line
stunt/sport kites
to choose from.

Including expensive
high-tech models.

How do
WindDances
stand out?
  -- Hotter acceleration!  Higher speed!
  -- Faster turns!  More-powerful turns!
  -- More responsive to pull-on-your-kite-line skills!
  -- More responsive to the wind!
  -- Wider wind range!
  -- Each model is a light-wind and a strong-wind kite!
  -- One peak-tuned bridle setting is good for ALL winds!
  -- Easier to fly!  Use pull-on-your-kite-line skill!
  -- New exciting feel:  the pull RISES when you turn!
  -- Superior exercise!
  -- Two can WindDance side-by-side together!
  -- Virtually indestructible!  Longer-lasting!
WindDance dual-line parafoil stunt kites/sport kites are developed, sold, and backed by Seattle AirGear.
WindDance, WindDancing, Seattle AirGear, and AirGear are trademarks of Seattle AirGear.
Copyright © 1995-2017 Seattle AirGear.
This page last revised May-1-2000