Hotter speed and turning than competition kites.  Higher-quality exercise and livelier pull than power kites.
WindDances are "airgear," a new concept.  They fly better and feel more exciting than typical stunt kites.
Our other advancements:  Ergo T-handles that boost feel, control, exercise.  Natural active FLY-a-kite skill.
What is FLYING? FLYING is when your kite has airspeed (air flowing past your kite, just like air flowing past an airplane wing) which creates pull in your kite lines. Above, the WindDance 2 is flying to the flyer's right, tails streaming behind. The tails show the airflow's direction past the wing. See how the airflow is almost directly at the wing's leading-edge and perpendicular to the kite lines? It's that way everywhere on the flight envelope, no matter what direction the WindDance is flying. See how the flying lines are tight? That means the WindDance is pulling on the flyer.

The lines show the pull.  The tails show the airspeed.  The WindDance is FLYING.   Pull = speed = FLYING!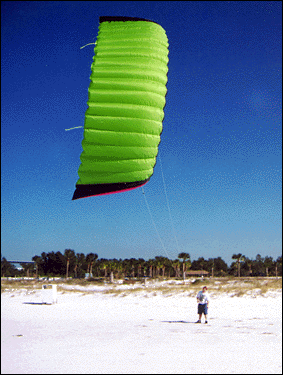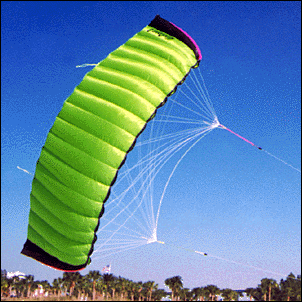 WindDance dual-line parafoil stunt kites/sport kites are developed, sold, and backed by Seattle AirGear.
WindDance, WindDancing, Seattle AirGear, and AirGear are trademarks of Seattle AirGear.
Copyright © 1995-2017 Seattle AirGear.
This page last revised Apr-10-1998